In this functional practice we will look at Center Forward Movement. The best number 9s are excellent in their movement, we will look at different types of movements to get behind and in front of defenders.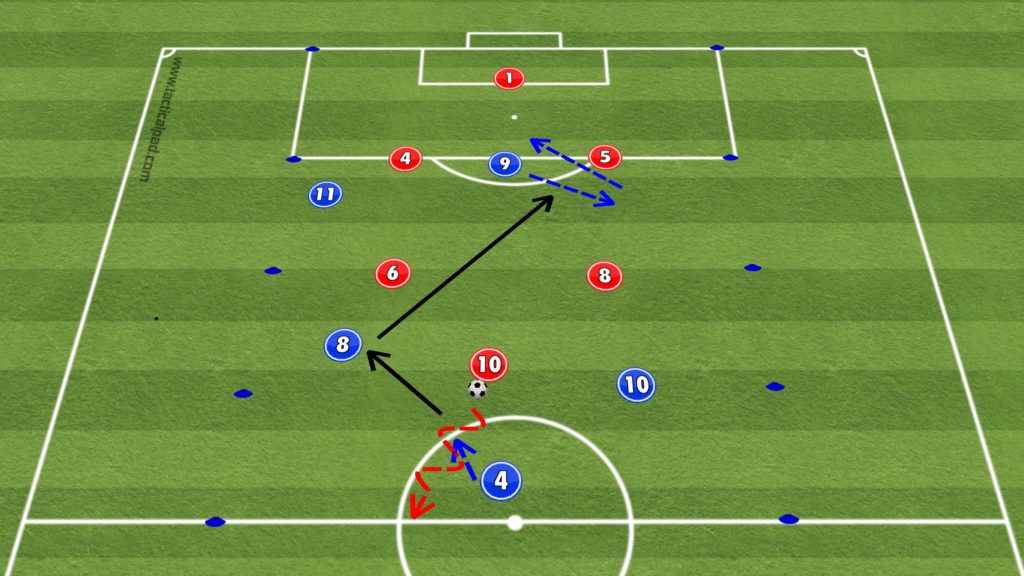 Organisation
Playing area: Attacking Half of pitch
Players: 5 Blues v 5 Reds + GK
Setup can be altered depending on your preferred style of play, e.g. Midfield 2/3 or front 1 or 2.
Session Detail
In this example the blues are set up with a Midfield 3 and a front 2. The front 2 could be two Center Forwards in a 1-3-5-2 or your team may play with a 1-4-3-3 and have one of the wide forwards inverted to become another Center Forward when in possession.
Play is started with the Red Number 10 who attempts to dribble base the blue holding midfielder and loses possession. This player in then out of the game. The Blue holding Midfielder is then encouraged to play ofrward quickly as the Blues have a 3v2 overload in Center Midfield.
Some examples of the types of Center Forward Movements we could look for are:
Start by playing between the center backs to pin them back and create space for build up play, then movement away to receive or create space in behind
Look for ball over the top. Movement away from defender and spin in behind
Movements around the corner, between Center Back and Full back
"False 9" drop deep to receive, turn and play forward
Rotations with wide players to disrupt opposition lines
Roles & Responsibilities
Holding Midfielder – Start practice, look for forward passes and provie option to retain possession
Central Attacking Midfielders – Link up play with strikers
Center Forwards – Variation of movements to first, pin the Center Backs to allow build up play, then clever movement to receive behind the final line and create goalscoring opportunities.
Center Forward Movement
In the modern game more and more teams play with a single Center Forward, Movement is a hugely important tool for these players.
Forward players need to be able to use their movement to create space and to receive in space to score goals.
In recent years the "False 9" has been made popular by Pep Guardiola, we have also seen the front 3 players of Liverpool with Salah, Ferminio and Mane using rotations to disrupt defenders in the English Premier League.
Functional practices are a great way of replicating scenarios that may come up in games, and in the areas of the pitch the players will have to deal with.
Set the practice up to ensure the ball will be getting into the final third often, then start with basic movements with forwards. You can build up the complexity and start to introduce rotations and other movements as the players develop their understanding of the topic.
You can see other UEFA B Licence practices here.