Session Topic: This session focuses on short and long passing technique. The session will also cover receiving technique, possession and using width in attack.
Age: Under 10 – Under 12
---
Warm-up (8mins)
To begin the session have players passing in pairs, moving around a set playing area (Size dependent on numbers). Begin with 2 yard pass and ask players to increase distance as they get more comfortable. Progress by asking players to move around the area passing with other partners.
Conclude by players getting into groups of four on the final whistle.
Technique (10mins)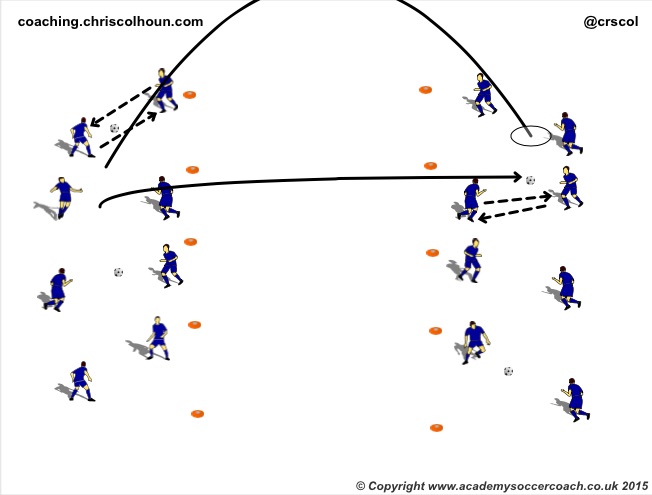 Players work in groups of four, two from each group will start in opposite end zones 10-20 yards apart. With one ball between each four players will work on various long passing techniques.
Play starts with one players passing into the opposite end zone, the player who receives will play a pass to his partner who sets him up for a long pass back. He will then become the receiving player the next passing.
Begin with a driven instep pass and progress:
Chipped pass
Curled pass – Inside and outside of foot
Driven pass with laces
Floated pass
5v2 Possession (15mins)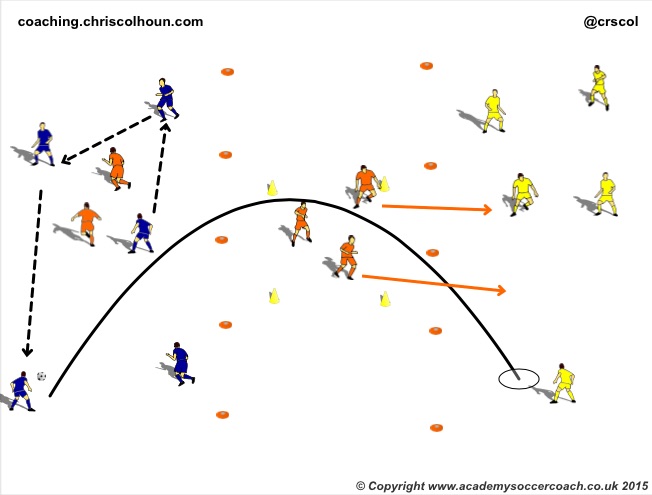 Players split into three equal teams, two teams take up the opposite end zones with the other teams starting as defenders in the middle small square.
When the coach plays the ball into one end zone team they must attempt to keep possession for 3/5 passes before playing a long pass into the opposite end zone. Two defenders from middle square will attempt to win the ball back. If they intercept the ball then the phase of play has finished and the coach plays a new ball into the opposite group.
Remember: When the short pass target is complete the team in possession must still make a successful long pass. It could be curled around the side, driven or floated over the top. If the center square players intercept that is a point!
Once the defenders intercept 5 balls they will swap out with one of the end zone teams.
Progressions:
Increase numbers of passes required
Max number of touches
SSG – Three Goals (12mins)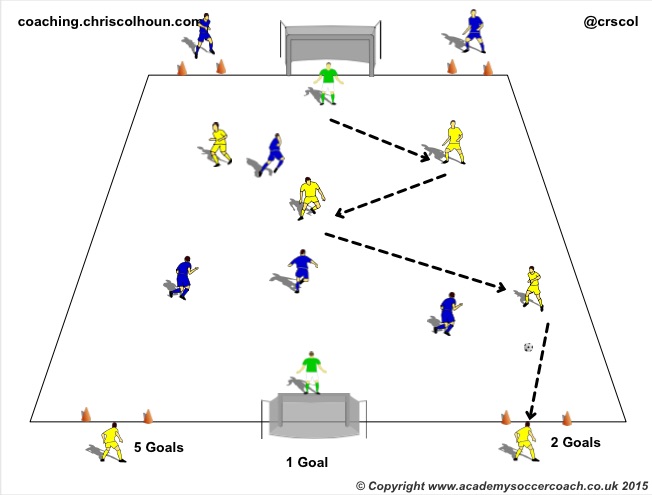 Two teams play on a 35-30 (approx) pitch with large goals, goal keepers and two small target goals per team. Behind each target goal must be a target player.
Team can score normally into large goal and receive 1 goal, if they can score into a target goal on the wing they will receive 2 goals or if they can switch the play and score in the opposite target goal they receive 5 goals.
Focus of activity is for players for spread out, make good quick short passes and look to switch the play if there is space.
Free play (remaining time)
---