In this practice we will look at playing out from the back and basic build up play with the aim of getting into the midfield third.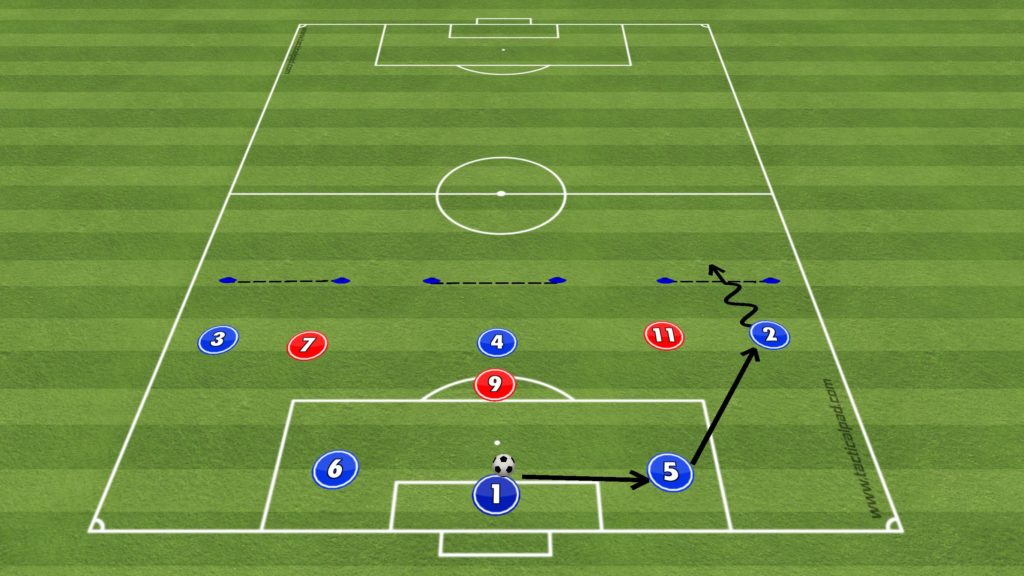 Organisation
Playing area: Third of pitch
Players: 6 Blues v 3 Reds
Setup can be altered depending on your preferred style of play, e.g. back 3 against front 2 etc.
Session Detail
In this example the blue team are set up using a Goalkeeper, back 4 and holding midfielder against the front 3 of the red team. This setup relates to a 1-4-3-3 v 1-4-3-3.
The aim of the session is to work with the blue team to receive the ball from their Goalkeeper and score by dribbling through any of the 3 blue gates as shown.
Play will always start back from the blue goalkeeper.
Roles & Responsibilities
Goalkeeper – Position the ball centrally, always be an option for a pass back if a team mate is under pressure. Goalkeepr options:

Pass to Center Backs
Driven pass to Full Backs
Pass to Holding Midfielder

Center Backs – Split wide, in line with the GK outside the 6 yard box. Body shape open, know where the opposition players are and look for open passing lanes. If there is space, consider driving out and inviting pressure.
Full Backs – Wide on the touchline, good movement to receive from GK or CB. Move up the pitch with the Holding Midfielder.
Holding Midfielder – Always scanning, open body shape and look to receive between the opposition players. Movement to open clear passing lanes. Consider late movement to receive into space.
Technical Coaching Points
Body Shape to receive
Scanning
Weight, accuracy and variation of passes
Can we play forward quickly? Over or around pressure. Doesn't always have to be short to the CBs.
---
Playing out from the back
Like all functional practices this is a good session to introduce the topic of Playing out from the Back. You would hope there will be a high rate of success for the attacking team however make sure there is realistic pressure.
Allow the defending team to have at least 2 or 3 players and ask them to press high and fast to force the team playing out into mistakes. Consider adding a number 10 for the defending team to mark the blue holding midfielder.
The distances will be large for the players, so think about rotating players in and out in order to keep the tempo of the session high.
Finally, make sure when planning the session that you are clear on your own style of play and how you want your team to play out from the back, whether in a back 3 or back 4.