In this practice we will look at Midfield Set Up Play. After receiving the ball from the Defenders, the aim is to play through midfield and find a Center Forward.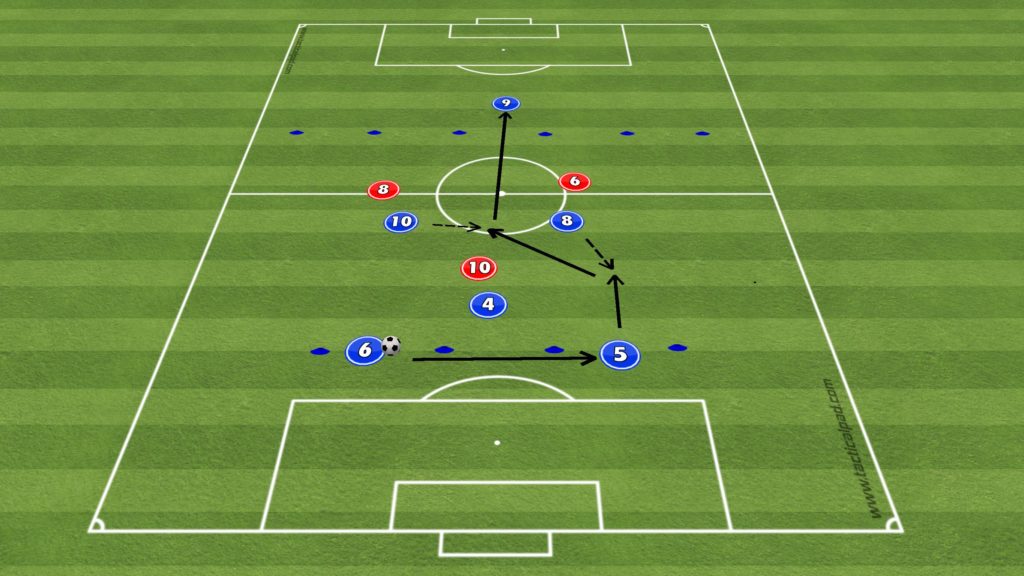 Organisation
Playing area: Middle Third of pitch
Players: 3 Blues + 3 Targets v 3 Reds
Setup can be altered depending on your preferred style of play, e.g. Midfield 2 or 3.
Session Detail
In this example the blue team are set up using with 2 Center Backs who are unopposed and stay within their gated area. They will start the play. The blues then have a Holding Midfielder, and two Central Attacking Midfielders. There will also be a single Forward who plays beyond the scoring gates and is unopposed but encouraged to move side to side to receive. This is the typical set up of a 1-4-3-3 formation.
The defending team will set up in the midfield of a 1-4-2-3-1 with two Holding Midfielders and a Number 10.
Within this set up the teams will be man for man in the main playing zone, this is game realistic although it may be difficult when introducing the topic. You may wish to give the attacking team a 3v2 overload by removing the Reds Number 10.
The aim of the session is to work on Midfield set up play. Play will start with either of the Blue Center Back's, who switches to the other Center Back and then plays into one of the Midfielders with the aim of finding the Center Forward beyond the blue gates.
If the Red team win the ball they can score by passing to either of the Blue Center Backs.
Roles & Responsibilities
Center Backs – Start the play, look for the best forward pass and support the Midfield players if they cannot play forward.
Holding Midfielder – Scanning, understanding when to drop deep. Angled movements to play from opposite Center Back. Good body shape, open, ready to play forward.
Central Attacking Midfielders – Movement to stretch an disrupt opposition. Google personal mobility to receive the ball behind the opposition Midfield Line. Can they combine with a CB or Holding Midfielder to create space for a forward pass? Rotation with Holding Midfielder to unsettle opposition.
Forward – Good movement and communication to provide good options for Midfielders to play forward. Keep moving to open up forward passing lanes.
Technical Coaching Points
Personal Movement/Mobility to disrupt opposition and create space to play forward
Scanning, checking shoulder to look for space to receive
Weight of pass to find forward players
Midfield Set Up Play
This is the next UEFA B functional practice, where we are looking at breaking through the opposition midfield to find our forward players with good midfield set up play.
As with the Playing out from the back, change the number of players and positions to suit your prefered playing style. You may play with a Midfield 2, but like one of your Center Backs to drive into midfield to create an overload. You could apply this condition to your practice.
As we build this into a Phase of Play we will look at how the Full Backs can affect the play through the middle and help stretch the opposition to create space to play forward.
It is always a good idea to go through some of the options on a tactical board with your players prior to the practice, this will help keep things sharp and give the players some idea of what you are looking for.
Remember to allow players the freedom to come up with their own solutions but the most important thing is building the practice up to make it as game realistic as possible.