In this practice we will look at Midfield Positive Runs. The aim of the session is to develop understanding of how to use good movement to break opposition lines.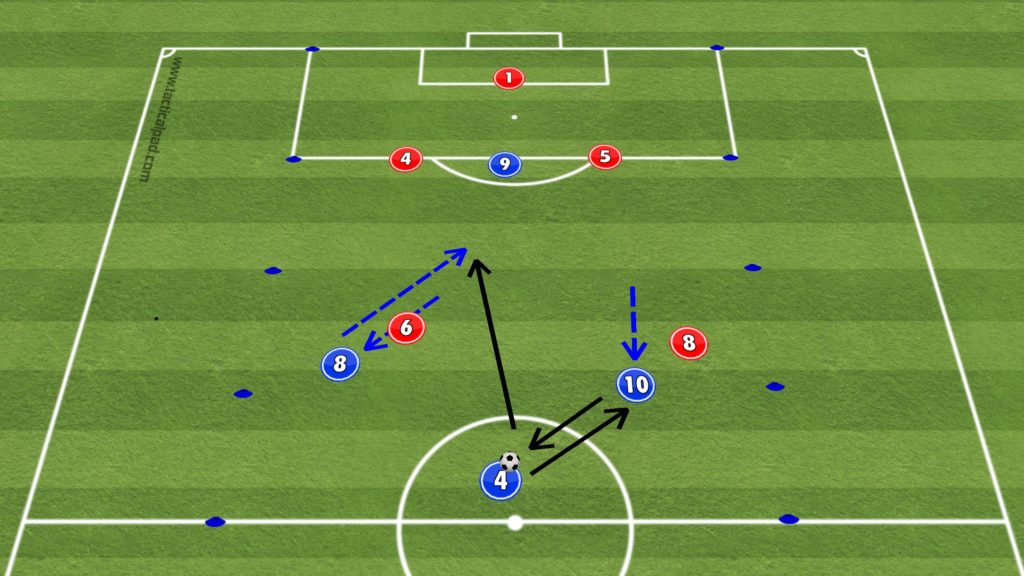 Organisation
Playing area: Attacking half of pitch
Players: 4 Blues v 4 Reds + GK
Setup can be altered depending on your preferred style of play, e.g. Midfield 2 or 3, Forward 1 or 2.
Session Detail
In this example, the blue attacking team have a midfield 3 and the reds will be out of possession using a midfield 2.
The blue holding midfielder will start with the ball, for a more game realistic start to the practice you can have one of the red midfielders attempt to make a pass through to a target man and have the blue holding midfielder intercept.
The blues must then use their overload and in particular Positive Runs to break into the final third and attempt to score against the red goalkeeper.
If the red team regain possession they can score by dribbling over the half way line.
Roles & Responsibilities
Holding Midfielder – Support the play, always provide an option for possession to be retained. Can they play directly into the number 9?
Central Attacking Midfielders – These will be the primary players to be coached within this session. Different types of Midfield Positive Runs to consider are:

Receive between the opposition midfield and defensive line
Move the defender away and then make an opposite movement into the space created
Stop – Start movement – can they catch the defenders of guard by looking disinterested then quickly move into space
Quick combination and then move into space to receive
Split away from other Central Attacking Midfielder to stretch the opposition and create space for a direct pass to the striker

Striker – The striker should try to pin the opposition defenders back in order to create space for the midfielders to take advantage of their overload. There is also a possibility for the striker to drop deep and allow a midfielder to make a run into the space left.
Technical Coaching Points
Personal Movement/Mobility to disrupt opposition and create space to play forward
Scanning, checking shoulder to look for space to receive
Weight of pass to find forward players
Variation of pass – direct into striker? Short, combination. Lofted pass.
Midfield Positive Runs
The main aim of this session is to find ways of using good movement and runs to break or disrupt opposition defensive lines.
This will especially be useful if the opposition are well structured and disciplined in their defensive block.
By development players understanding of different types of movement they should be able to find ways in games to find a yard of space which could lead to a goalscoring opportunity.
This UEFA B Licence functional practice should be used with your own teams setup in mind. You could set up a midfield 3 for both the attacking and defending team, it may be worthwhile the start with less pressure and add more opposition players in to make the practice more difficult.
There are some basic principles, e.g. receiving between lines and between opposition players however you can get creative and very specific on different types of movements and in particular different speeds of movements.
Players should also be encouraged to scan often in order to have a clear picture of where the space is and where the opposition players are.